Do you need a new fridge van, maybe for your business? Are you unsure of exactly what to go for? Don't worry, at BHRV we have put together everything you need to know when it comes to choosing a refrigerated van. At BHRV we are experts when it comes to fridge vans and refrigerated vehicles, we also provide refrigerated van conversions. So should you run a pharmacy that you need the van for, or a food or catering company, a freezer van is going to provide you with a number of benefits. Different vehicles and vans will come with different specifications, so you'll always find an option that's going to suit your needs and requirements.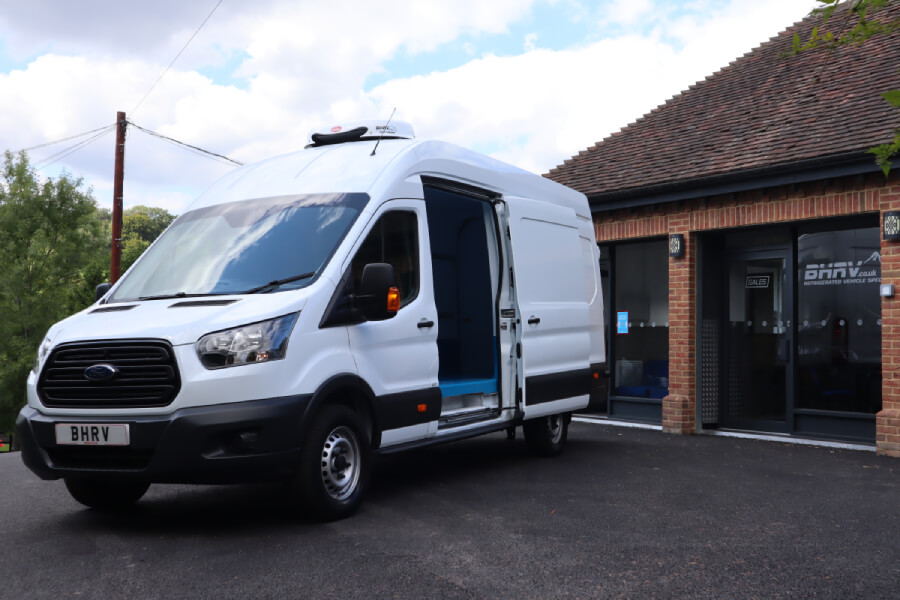 What temperature do my products or items need to be at?
Certain vans will have individual temperature controllers, and there are different temperatures for different requirements. For example, if you are transporting flowers, then your temperature needs will be totally different to those of the pharmaceutical sector. It's essential that you choose the right refrigerated van for your individual company's needs.
We recommend that you consider the temperature that is needed for your products, what exactly will you be transporting? What temperature will you need to maintain for the journey to ensure that your goods will be OK. It's important that this is one of the main things that you consider before you choose your refrigeration van.
Food
For food and catering items, whether they are going to be hot or cold during transport, the temperature will depend entirely on the product or foot item itself. Fridge and cooler vans can carry food that will need to be stored at a temperature over zero degrees. Freezer vans are built to maintain lower temperatures, as a catering firm we recommend that you go for a dual temperature vehicle as this can support a range of goods, all at the same time.
Samples
Handling and transporting samples includes strict protocols, samples should be kept at the necessary temperature and in a similar quality condition of the sample's time of sampling. Refrigerated vans with partitions are a great option, or vehicles with dual refrigeration units will be best suited for these products. This is so that samples can be kept at a constant temperature.
Healthcare
When it comes to transporting pharmaceuticals such as medicines or equipment, it's essential that they're stored in the most hygienic way, they should be at a constant cool temperature. If they are not then they will be seen as unsafe to use. A fridge van that has different compartments and can provide different temperatures is going to be the best option for this. We also advise considering a van that has a backup power source for emergencies, these types of vehicles will be best suited for this industry sector.
When you have more information about the items and goods that you'll be transporting, you'll be more clued up on the temperatures and van specifics that you'll need. At BHRV we have access to a large range of fridge and freezer vans that are available to our customers, this includes new and used vehicles as well as a bespoke conversion service.
Why choose BHRV?
As experts, at BHRV we are the team to contact when you need refrigerated vans in the UK, we provide a large range of freezer vans and fridge vehicles which also include new, used and second hand. We are home to extensive experience and have over 60 years of industry experience. Our company has been established for 20 years, so when you need fridge vans, BHRV is the team to call on. We can also provide you top quality vans and vehicles, we provide a dedicated service. Simply get in touch with our friendly team today.
Call BHRV today!
Get in touch today if you need any advice about refrigerated vans or vehicles that we provide; our professionals are happy to help. You can also check out what's available at BHRV, we offer a range of freezer vans, refrigerated vehicle and van conversions, it's also worth knowing that we are specialists in refrigerated vans and vehicles and with this in mind, we stock a range of products that are available on our website, so should you have any questions or queries, simply call our professional team today, they will be more than happy to assist.